Parnassus Profile:
Madison Kerns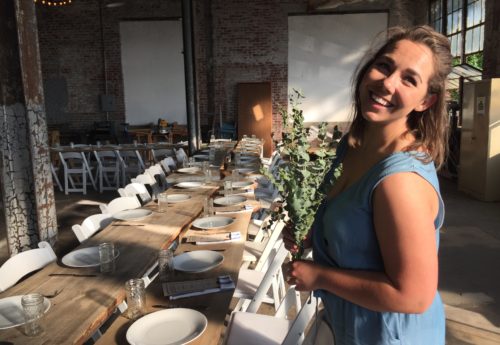 Most often the first contact for The Parnassus Group, Madison Kerns sets the right tone for clients engagement with the firm.
"The work goes so far beyond recruiting a leader; everything the team and I do involves being a partner in the long term strategy of our client."
"I wanted to be able to have some kind of ownership in what I did, beyond the personal work I'm doing," Kerns said. "Not just in my company, but with people the company was serving. I knew social venture was a major area to consider."
During her time at Samford University, she was a member of two student teams that assisted local entrepreneurs in launching nonprofit ventures. Following her graduation she completed a two-month internship with an organization called Praxis. The program, called Future Founders, included 10 graduating college seniors from all across the U.S. Their focus was on the intersection of culture, theology and entrepreneurship.
The program took her to Dallas, where she apprenticed under the COO of Akola Project, which helps women in communities in Uganda develop sustainable economic structure through the work of their hands in artful ways.
After graduating in 2015 with a dual-degree in entrepreneurship and management, and working as a Sector Lead with the non-profit Fish Camp Films, Kerns is nearing two years as Perquisition Analyst with The Parnassus Group.
As both an analyst and a journalist within the firm, her role is to research client companies and dig deep into their formula for success.
"My job is to know our client, their impact on healthcare, and how the nuances of their organization affect the qualities needed in the next member of their leadership team," she said. "The work goes so far beyond recruiting a leader; everything the team and I do involves being a partner in the long term strategy of our client."
Sarah took us down this path. Walking with her you begin to see what she notes as "original motivation" that takes people into healthcare in the first place. The simple truth is that it is all about the humanity of being kind people, connecting hope with patients and animating meaningful interactions.
"There's been a lot of grace for those like myself who are trying to work full-time and have circumstances that require other emotional and time commitments with having families and other aspects of life. That's been a gift of understanding circumstances and trying to think outside the box in terms of how we work."
She added that so much of what she has been learning goes well beyond what she anticipated. Many things have been graciously put in her path to challenge and help her grow.
Kerns enjoys her role at The Parnassus Group because she can see the direct influence that her work can have.
"Placing a leader in a role where they feel equipped and encouraged to improve their slice of healthcare directly impacts the patient," she said.
As a novice in healthcare, Kerns has had to learn the industry from the ground up. Engaging with leaders across the healthcare spectrum has allowed a quick and expansive familiarity. She describes The Parnassus company culture as hard to beat.
"It's not something I had ever seen or experienced, such a close-knit group of people that work hard to equip one another," she said. "We are constantly trying to grow amidst our business, and other areas too, to become more well-rounded people together."
While at the very beginning of her career, Kerns has learned that the business world is very small and highly dynamic, with every company constantly changing. She finds it very energizing and motivating personally.
"The way people care and serve is going to look different," she said. "They will have models of people they look to as being the best, but even the best are always learning, pivoting, and changing their approach to advancing good and serving the people they are seeking to help."
When she's not working, Kerns enjoys exploring her creative side and contributing to a couple local non-profits.
"I want to continue to grow my knowledge and experience in the social venture world in Birmingham and outside of Birmingham."
–Leah Ingram Eagle