Entrepreneurship Series – Pouring Your Loves Into Your Life and Work – Chocolate Maya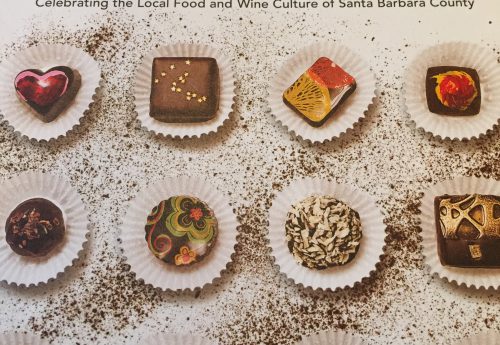 Nestled in Santa Barbara is a unique and delicious chocolate shop called Chocolate Maya. Its owner and confectioner, Maya Schoop-Rhutten, was born and raised in Switzerland and those formative memories are alive and well in her seaside kitchen and gallery.
Maya's artistic manner conveys a deep appreciation for beauty but she also relishes the simplicity of chocolate as a common ground for healthy living.  Growing up she saw the trips to the confectioner as fundamental, like going to the butcher for meat or baker for bread.  Even her designs have an implicit connection to the colors, shapes and experiences of the mountains and fields that inspire her.
Many of us think of times that we have paused to consider what life might be like if we poured our affections into the mixing bowl of our professions.  Maya has done it.  She is taking a life-long love for chocolate and diving into a now flourishing business that she shares with others.  Like so many great leaders and innovators, you find their roots have more to do with their success than any unique pathway of study or discipline.
"We had a closet at home that was always filled with chocolate — it's just the way it is, you eat chocolate all the time. And not much, just a little bit. So, that's where I got the passion." After moving to the states in 1982, Maya found there to be no replacements for the fine chocolates she had grew up enjoying, and would often return from Europe with chocolate-filled suitcases for all her friends. It was then that she set out to open her own shop.  "One day I thought, well maybe I should just open my own chocolate shop. It's really simple."
While Maya makes it appear easy, the work she does at creating anywhere from 800-900 pieces of chocolates each week is no simple task. But she enjoys every minute of it – from carving out time to create new and inventive chocolates, to scouring the world for the finest chocolates.  The step beyond fascination and into business began while she was visiting Switzerland with her children, she ran across a chocolatier who had just opened a new shop in a little village in the Swiss mountains and after trying it she discovered that it was "he was making really good chocolate" .  She remembers saying to him,  "Oh gosh, I wish I could learn how to do this, and he said, 'Come anytime, I'll teach you.' This was the month of August, and in October I went back and stayed for six weeks and I worked from 7 o'clock in the morning to 7 o'clock at night, and he taught me everything – literally offered everything to me for nothing, he didn't want anything in exchange. It was quite an experience to have someone give you everything they know out of their own heart. . .he was just extremely successful and really generous."  This one man's generosity has since help to transform Maya's life from chocolate lover to life-long student of the fine art of chocolate. And she continues to travel to new places in search of the best chocolates while continuing to develop a strong admiration of the cultivators — the cacao farmers.  For the chocolate lover in all of us, you have to peer into this window and see her store. Inspiration never tasted so good.
(article produced by Britt Baker and John Lankford from The Parnassus Group)